referral promo
want to earn extra time as a member? it's as easy as sharing the word about house seats!
for every person you refer that joins house seats, you will earn 1 month of additional membership credit!
as a bonus, for your 10th referral, you will receive 1 year of additional membership credit!!!
HOW DO I REFER SOMEONE?
click the "Refer a friend" tab while logged into your own membership (see image)
enter your contact's information and email address
click Send Message to your contact.
when your contact joins through the link, the referral will be automatically tracked back to your membership account!
if the referral link is NOT utilized, the NEW member must put your name exactly as it appears on your membership account when they join, or no referral credit will be given (there's lots of John Smiths and Peggy Sues out there, so they'll need to be as specific as possible, even adding an email address if they have it.)
PLEASE NOTE:
referral program is for current ACTIVE house seats members ONLY.
referrals will be credited for purchases made by NEW, FIRST TIME members ONLY.
the member receiving the referral credit MUST BE ACTIVE!
accounts must be active and in good standing to receive referral credit. No referral credit will be given if the account is expired or has pending fees at the time the new member joins
all referral credit will be applied within 30 days of New Member Purchase.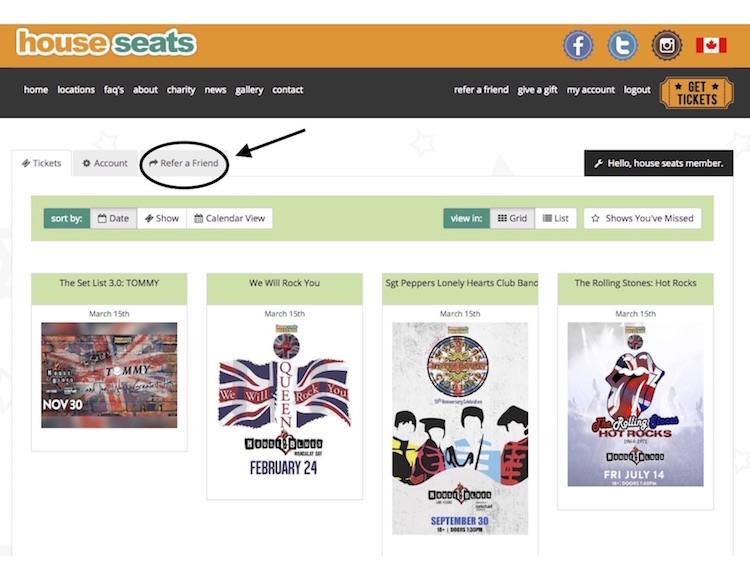 DIDN'T GET CREDIT? DON'T PANIC!
email reno@houseseats.com and we will be happy to look into the matter for you!
so, what are you waiting for? shout it from the rafters....help your friends, family, heck - help the lady in line behind you in the grocery store - join house seats, and start earning your rewards NOW!
*house seats reserves the right to discontinue rewards at any time.